Main article: Category:Expedition

A device known as the portal of Time has been found in an ancient ruin. Now the mysterious forces calling themselves the "Rebels" emerge from the portal... Will a destined future or an uncertain past prevail.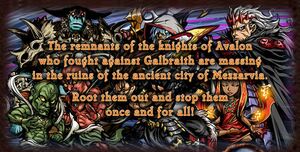 Event Zones
Edit
River of Despair 
Belleek Hill Level
Sharoz Village    
Thyniha woods
High Halk Castle
Portal of time
Event Points
Edit
A certain number of points will be won at the end of a battle. Points can be obtained in multiple ways:
Vanquish points - Approximately determined by the estimated points shown when choosing an opponent, this number is predetermined at the start of a battle and is accumulated when you satisfy the victory conditions.
Blitz Bonus - A blitz bonus can be obtained by defeating your opponent more quickly.
Level Points - Based upon the dificulty of the enemy battalions. Collected after the final battle of a level. (Usualy three battles)
Annihilation Bonus - Obtained by Killing the entire enemy battalion.
Undead Bonus - A bonus that is baised upon the survival of the Undead that have been summoned during that round.
Undead recovery Bonus - A bonus that is baised upon the survival of the Undead either untill the end of the level or untill absorbed.
Ranking Reward:
Points Reward:
Expedition Rewards:
Other rewards obtainable from points and mini-bosses: